Membership
Buy a $5 annual membership to join WECAN Food Basket Society. Membership period runs from April to March. Potential members may join any time however the membership will be renewed in April each year.
How to join
We have numerous depot locations around Edmonton and area where you may place your order and payment. Please keep in mind that the depot location you choose to pay to will be the location of pick-up.
You can now register directly on our website by going here
How it works
We operate through a pay for use model. Members must place and pay for orders before the order deadline on the first Friday of the month (Please read further for important dates). WECAN Food Basket Society then places the order at TGP, a local wholesale store that supplies the food basket at a lower rate. Please keep in mind that we buy what is in season and what is on sale.
Payment
At the moment we are accepting cash payments only for in-person orders. Orders online can use standard methods of payment
Food Basket
A food basket is $25. Below is a breakdown and example of a food basket. If you would like to purchase more, you may double your food basket to $50, or alternatively the meat portion or produce portion if you would like more.
Meat ($15)
Produce ($10)
2-3 Frozen meats
Fruits
Vegetables
0.5 kg Lean Ground Beef
0.7 kg Chicken Thighs
0.5 kg Pork Tenderloin
1 kg Bananas
0.5 kg Apples
0.5 kg Oranges
2 lb Bag of Carrots
1 bunch celery
5 lb bag of Potatoes
Where to order
Place your orders at the depot location most convenient for you! When placing an order, on a piece of paper please indicate the following: 1) Your Name 2) Your Phone/Email 3) Order Details 4) Amount that you are enclosing.
What is a depot?
Depots are locations around Edmonton where you may place your orders and pick-up your food basket. This is run by the depot coordinator and volunteers. The depot can be likened to a pop-up store that operates ONLY on the pick-up day (aside from the hours when you would like to pay for your order). Other than once a month, there is no food on-site at any of the depots, thus it is important that you pick up your baskets promptly.
Order deadlines and pick-up days.
Orders must be placed before the first Friday of each month. Orders will be available 2 weeks later, on the 3rd Thursday or Friday of each month depending on your depot location.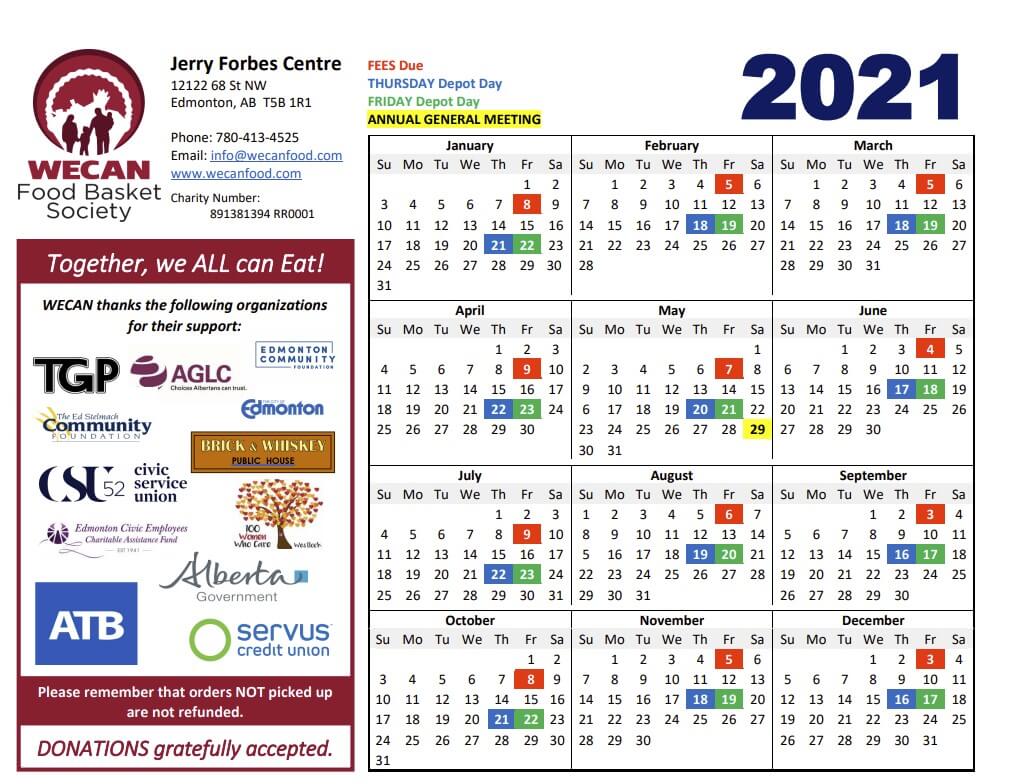 Disclaimer
The Food Basket is intended to provide access to fresh and safe food at an affordable price. Therefore, the organization operates to keep this cost low. Depot locations are run by volunteers that help with grocery pick-up, delivery to the depot, sorting, packaging and distribution.
Orders that are not picked up may be sold to other members or donated to a social service agency.
Members can ask family or other friends to pick up their orders on their behalf. Please send us an email at [email protected] if you are not able to, with the name of the person who is going on your behalf. Alternatively, if a receipt was issued, you may give the receipt to the person going on your behalf as proof of purchase.