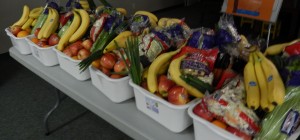 The WECAN Food Basket Society believes in  healthy food for all Edmontonians.
WECAN connects individuals and families on limited and or fixed incomes, who are struggling at the end of each month to provide enough healthy food for  their families, with  a basket of  fresh produce and frozen meat items. The Food Basket program is designed to replenish the refrigerator the third week of the month when food supplies and funds are in short supply. As the food order has been prepaid, members need only go to their community depot to pick up their order.
The WECAN program uses a pre-pay model (pay at the beginning of each month when money is available), purchases bulk wholesale food, uses community pop up locations, and staffs these community locations with dedicated volunteers on delivery day.
The program appeals to members on a variety of pensions or monthly pay periods and those with limited incomes As  food often is the most flexible item in most household budgets, our food basket the third week of the month, is invaluable.
Currently  25 depots are hosted by churches, parent link centres, tenant centres, community leagues and day cares scattered throughout Edmonton and the surrounding area.
WECAN  would like to remind members that: "Every member is responsible for picking up their food order on depot pick up day.  If this is not possible, it is the member's responsibility to make all necessary arrangements.  Any food not picked up will be sold to other members or donated to a community group for distribution."